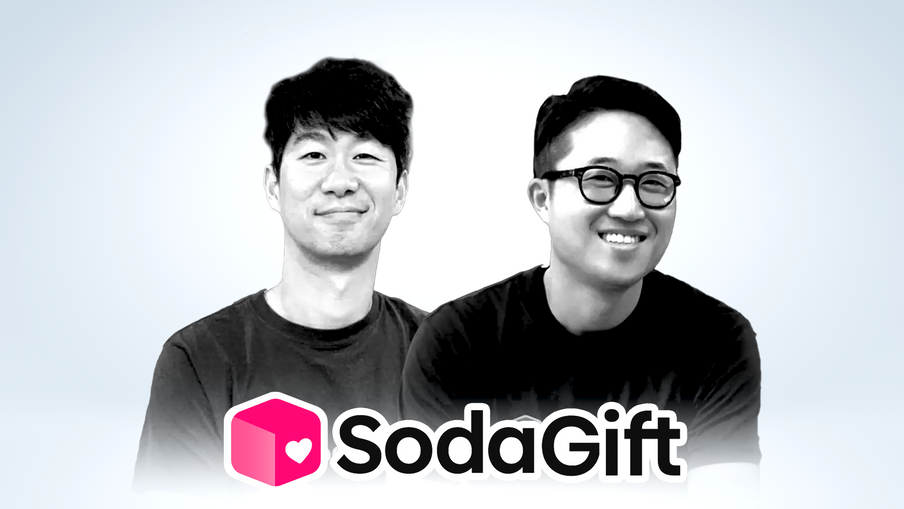 After pivoting away from its previous focus on remittance, Sodacrew has now set its sights on disrupting the mobile gifting market.
Gifting is already only a few taps away thanks to modern smartphone technology. Anyone can send both digital coupons and even real products, such as flowers and a bottle of wine, directly to their loved ones.
Despite these advancements within the gifting industry, cross-border mobile gifting remains a relatively untapped field, with few companies having been able to successfully resolve the thorny logistical and supply chain challenges that it presents.
"When it comes to gifting across borders, not many companies come to mind. Not even online gift cards published by retail giants like Amazon have become user-friendly, especially when being gifted to those outside of the US," said Daniel Lee, CEO of Sodacrew, the operator of mobile gifting service SodaGift, in a recent interview with The Miilk. "We hope to become the go-to platform for cross-border gifting."
A Side Hustle
Before launching the startup in 2015, the three co-founders — CEO Lee, CTO Jake Kim, and CFO Richard Kim — frequently bounced ideas back and forth, in the hopes of striking gold. They considered in-eBook advertising, a meditation app, and an anonymous mobile chat app, and attempted to launch a service that connected consumers with trustworthy freelance insurance agents.
Initially, SodaGift was far from their primary business model, but rather served as a marketing tool for SodaTransfer, a digital wallet service that launched in a beta trial in 2017.
SodaTransfer brought in around 16,000 users, who found it to be a cheaper and more convenient way of transferring money overseas than established banks.
Initially, SodaGift was just an added perk for those making use of SodaTransfer's money transfer services. Over time, however, SodaGift's growth out-stripped the original remittance platform, with the comparative lack of financial regulations within the gifting industry allowing Sodacrew more operational leeway.
Meanwhile, SodaTransfer continued to struggle to navigate complex domestic financial regulations. South Korea's foreign money transfer and exchange laws have earned the nation its reputation as a financial Pandora's Box: a lucrative market that so many companies shy away from due to its heavy regulations and penalties. After hitting one too many regulatory brick walls, the company decided to pivot away from the international money transfer industry to mobile gifting.
"Although we do truly feel sorry for our customers, who are still very much in need of a cheap, reliable international money transfer service, we felt the pivot was necessary for us to give SodaGift the chance it deserved to sustain its fast growth through diverse business opportunities," CTO Kim told The Miilk.
After months of deliberation, the co-founders decided to shut down SodaTransfer to commit themselves fully to the gifting sector.
Beginning a New Chapter
Now, the same team that sought to disrupt the money transfer market are applying that same spirit to the mobile gifting market.
On SodaGift, which officially launched in January 2020, Korean users can purchase, for example, an UberEats mobile gift card for their US or Canadian friends, and receive in return a voucher for an iced Americano valid in any Korean Starbucks.
After hitting 100,000 users in December 2021, the company currently has 190,000 as of June 2022. Although it declined to share its revenue, the company did reveal that its sales have doubled over its first two years of trading. SodaGift has also seen an influx of US users, who tend to join the platform after receiving gifts from their Korean friends.
Some 4,000 items from 400 brand partners, 150 of which are based in the US, are currently available on the platform, with users having a range of payment options, including Google Pay, Apple Pay and PayPal. SodaGift allows users to send gifts to anyone, provided they know their email address, mobile number, or one of their social media handles.
"Although we've focused primarily on increasing the number of brands available so far, we're now shifting to prioritize improving the quality and reliability of our user experience," the CEO said.
Sodacrew also enables users to add a personal touch to their gifts, by allowing them to send short videos or graphics as thank-you notes.
The company's decision to prioritize user convenience is in no small part due to increased competition within the industry. Until very recently, SodaGift was pretty much the sole player in the Korean cross-border gifting market, though this is set to change with a number of competitors having entered the field. This new competition has driven up the cost of social media and online advertising, with newcomers adopting a me-too marketing approach. Consequently, the company has shifted its focus away from marketing to development, with its new aim being to develop a higher quality product and user experience.
Within the next year, SodaGift aims to increase the number of countries available on the platform from 3 to 5, with the latest addition likely to be Australia. The start-up has also targeted the corporate gifting sector.
"US HR managers frequently request corporate gifting services, which has motivated us to up our game to better cater to our corporate clients," Lee said.
Equally, although the CEO was keen to emphasize that any discussions were still in their early days, the company would not necessarily shy away from seeking out M&As to secure its future growth.
Since 2017, Sodacrew has raised 8.6 billion won (US$6.3 million) in funding, including 5.7 billion won ($4.1 million) last year that was earmarked for SodaGift. Its investors include KDB Bank, Big Basin Capital, and Aju IB Investment.
In 2024, it aims to embark upon a round of Series B funding, with the goal of raising approximately 10 billion won ($7.2 million). Beyond its 3 co-founders, the Sodacrew team is made up of 22 employees, encompassing software engineers, marketers, and designers.
Sodacrew's Competitors
Dpon Gift
Launched in April, 2020, Dpon Gift targets predominantly Japanese consumers seeking to send gifts to friends and acquaintances in Korea. It offers vouchers for coffee shops, chain restaurants, and department stores in Korea. The company, which doesn't provide gifting services to nations other than Korea, has kept its cards close to its chest, refusing to reveal the size of its user base and the amount of capital it has raised.
Marina Gift
As one of Korea's most recent entrants to the cross-border gifting industry, Marina Gift launched its service, which allows US users to gift to their Korean acquaintances, in 2022. Its site offers very little corporate information.
By Youngwon Kim (youngwon@themiilk.com)
Moorea Mehta (m.p.a.mehta@gmail.com) contributed to editing this story.